Beyond Pesticides November 26, 2014
Last week, over 100 scientists from diverse disciplines released a letter citing the growing body of scientific evidence that neonicotinoids and other systemic pesticides harm bees, and called on leaders of President Barack Obama's Pollinator Health Task Force to quickly take action on pesticides to protect and promote healthy populations of bees and other pollinators.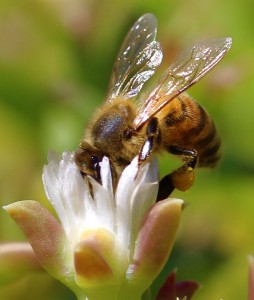 The letter was submitted in response to the recent "listening sessions" hosted by U.S. Environmental Protection Agency (EPA) and the U.S. Department of Agriculture (USDA). These sessions were held by the agencies to collect public feedback on federal efforts on pollinator protection, and the Task Force convened to develop a National Pollinator Health Strategy. In June, the White House issued a Presidential Memorandumdirecting federal agencies to join the Pollinator Health Task Force, led by USDA, to develop pollinator health solutions.
The 108 scientists —whose areas of expertise include entomology, agronomy, ecology, ecotoxicology— called on Task Force...
Read at: http://www.beyondpesticides.org/dailynewsblog/?p=14561