Beyond Pesticides 2/4/14
No strawberries, no honey — without bees Valentine's Day just wouldn't be the same.
In fact, one out of three bites of food depend on honey bee pollination, but they are in danger from the use of neonicotinoid pesticides that Europe has already banned. We know bees can't wait any longer for increased protections, so we need to take a stand wherever we can.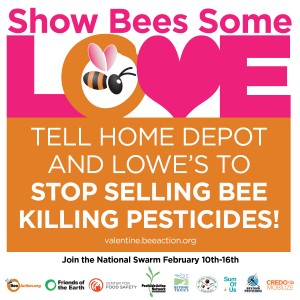 That's why we're asking you to join thousands of people coast-to-coast toswarm Home Depot and Lowe's stores the week of Valentine's Day (February 10-16).
We'll be delivering valentines, asking these stores to "show bees some love" and stop selling bee-killing pesticides and garden plants poisoned with these harmful chemicals. Planting season is right around the corner. We can't let another year pass with Home Depot and Lowe's selling "poisoned plants" with no warning to consumers.
Last year U.S. beekeepers reported a30-100 percent loss of their hives, and right now they are likely facing another winter of historic bee die-offs. You can help BEE Protective of pollinators during another tough winter season by delivering a Valentine to retailers. We've made it easy:
Sign up here and we'll send you a printable valentine with a step-by-step guide closer to the date.
Background:
Scientific studies are consistently finding that a new, and increasingly popular class of pesticides, called neonicotinoids, are significant contributors to the devastating decline of pollinators across the globe. They include imidacloprid, acetamiprid, clothianidin, dinotefuran, nithiazine, thiacloprid and thiamethoxam, and products containing these pesticides can be found on this list. Peer-reviewed science has repeatedly identified these insecticides as highly toxic to honey bees and other pollinators. Once applied, plants take up these pesticides and exude them in their pollen and nectar, subsequently endangering any pollinators that forage on these contaminated plants.
A report co-released late last year by Beyond Pesticides, Friends of the Earth, and other allies revealed that the neonicotinoids may be lurking in our own gardens. The study showed that more than half of the "bee-friendly" plants sold at retailers like Home Depot and Lowe's contained these bee-killing pesticides. In lieu of federal action to restrict the chemicals, we must take a stand against retailers who continue to sell poisoned plants.
More BEE Protective Actions:
Help Beyond Pesticides build the buzz on all fronts by asking retailers, administrators, and elected officials to take action by eliminating or curtailing the sale and use of neonicotinoid pesticides.
Join Beyond Pesticides, Center for Food Safety, Pesticide Action Network, Ceres Trust over 60 other groups' coalition-based national advertising campaign to raise awareness of pollinator declines and urge EPA to stop stalling by enacting substantive restrictions on the use of bee-harming pesticides.
Devote your garden or landscape to the protection of pollinators. Download the BEE Protective Habitat Guide and see our Managing Landscapes with Pollinators in Mind webpage for information on how to create pollinator-friendly habitat in your community.
Keep the pressure on your elected officials to support a bill that would suspend the use of neonicotinoid pesticides until a full review of scientific evidence and a field study demonstrates no harmful impacts to pollinators. The bill currently has 50 cosponsors in Congress. Is your Representative one of them?
Beyond Pesticides' BEE Protective campaign includes a variety of educational materials to help encourage municipalities, campuses, and individual homeowners to adopt policies and practices that protect bees and other pollinators from harmful pesticide applications and create pesticide-free refuges for these beneficial organisms. In addition to scientific and regulatory information, BEE Protective also includes a model community pollinator resolution and a pollinator protection pledge. Pollinators are a vital part of our environment and a barometer for healthy ecosystems. Let's all do our part to BEE Protective of these critical species.
http://action.beyondpesticides.org/p/dia/action3/common/public/?action_KEY=16423
All unattributed positions and opinions in this piece are those of Beyond Pesticides.