Beyond Pesticides 2/6/14
We know that pesticides and bees don't mix and that particular pesticides, such as neonictinoids, pose significant threats to bee populations worldwide, but a recent study conducted by researchers at Pennsylvania State University have identified that it is "the mix" of the many chemicals in the environment that pose a significant threat to honey bee survival.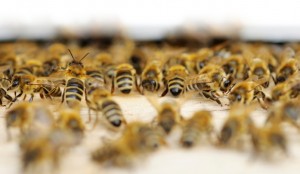 Looking at the four most common pesticides detected in pollen and wax -fluvalinate, coumaphos, chlorothalonil, and chloropyrifos, Wanyi Zhu and other researchers have assessed the toxic impacts of these pesticides on honey bee larvae at real world exposure levels; that is, levels that are found in existing hives outside of a laboratory. But these researchers go beyond the usual one-chemical analysis in their study, Four Common Pesticides, Their Mixtures and a Formulation Solvent in the Hive Environment Have High Oral Toxicity to Honey Bee Larvae. Rather than just looking at the pesticides in their individual, out-of-the-bottle form, they also mixed them up and broke them apart.
Why did they take this mixed-up approach? "Recently, one hundred and twenty-one different pesticides and metabolites were identified in the hive with...
Read more... http://www.beyondpesticides.org/dailynewsblog/?p=12729
Source: PLOS One