The Guardian By Brandon Keim June 21, 2015
As water-hungry turf turns brown in the state's fourth year of severe drought, many homeowners find the time ripe to revegetate with native plants such as cacti, buckwheat and sage scrub: 'It's helping sustain biodiversity'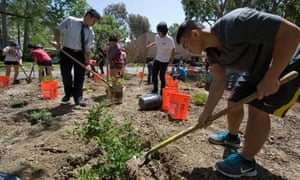 The arboretum at the University of California, Irvine. Photograph: Steve Zylius/UC Irvine CommunicationsJennifer and Lawrence Kesteloot like to begin the day with breakfast in their San Francisco backyard garden. For the last several months, they've had guests: iridescent green-and-red Anna's hummingbirds, drawn by wildflowers planted to replace what had been dead brown turf grass and concrete.
The Kesteloots hadn't considered hummingbirds when imagining their garden. Mostly they were concerned about not using much water amidst the deprivations and uncertainties of California's drought.
The ecologically rich plantings, the beds of California poppies and wild lilacs, were the...
Read more...
http://www.theguardian.com/us-news/2015/jun/21/california-drought-landscaping-succulents-wildflowers